PHOTOGRAPHY STUDIO RENTAL
Our studio not only do we offer beautiful, equipped spaces for rent for your shoot, but also a complete Photography service specializing in WEDDING, FAMILY PORTRAIT AND E-COMMERCE photography, for clothing, accessories and products.
Our studio offers a hip, yet cozy vibe and is a great place to impress your clients on your next photo or video shoot. Heck, your crew will love it too!
Our versatile facility serves as an ideal studio for fashion, editorial, product, advertising, and celebrity photo shoots, and as a films, commercials, music videos, interviews, TV shows, and web content video productions stage.
All photography and videography studio rentals are not the same. The Knot Studio offers photo studio rental at excellent rates. It offers advance technology, a multitude of resources and range of studio options designed to inspire creativity.
We take pride and pleasure in providing a friendly, professional experience and we have a true appreciation for our clients. We are open around the clock, 24/7/365 days a year, providing our clients with the maximum flexibility when it comes to booking. To lock in your studio space, time and date. Whatever your photography needs, call us at:
Cell number. 281.701.7939
Our email address. Inquiry@theknotstudio.com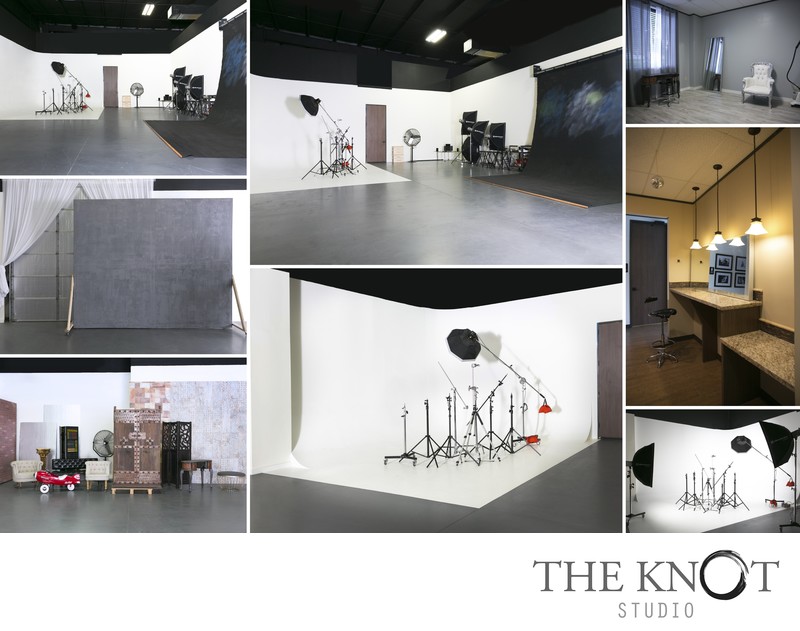 OUR STUDIO - The intimacy and privacy of our studio makes for a perfect environment for photo and film shoots.
Studio shooting Space 30'x47'
Studio Dressing Room 16'x14'
Studio Make-up Room 9'x10'
White Cyclorama Wall 14'x18'
Beautiful Natural Light
Central air conditioning,
Painted high gloss concrete floors,
Freshly painted hard-wall cyclorama (white) 18 feet x 16 feet,
20 feet ceiling,
Dressing room
Vanity Station
12 feet wide and 18 feet high door open to accommodate your needs
AVAILABLE PHOTO STUDIO EQUIPMENT -
Paper background
Canvas background
12 feet x 10 feet movable black and gray movable wall
Light Reflectors
Stainless Steel C-Stands
Sandbags
Light Stands
Light Stands with wheel
Boom arm
Umbrella Reflector
Soft-box
Pocket Wizard Transceivers/ Receivers
Studio mono lights
OUR RATE *
$75 Hourly Rental
Two Hours Minimum Rental
Includes the studio space
Tables, Stools,
Available backgrounds, etc.
Wifi
$275 Half Day Rental
Four Hours of Rental
Includes the studio space
Tables, Stools,
Available backgrounds, etc.
Wifi
$650 Full Day Rental
Up to Ten Hours of Rental
Includes the studio space only
Tables, Stools,
Available backgrounds, etc.
Wifi

Special Event Pricing
Pricing upon request.
Limited Membership Available
Ask about our MONTHLY SPECIAL
Includes studio space, tables, Stools, Light Stands, Soft Boxes and Studio Monolights
*All rentals have a two hour minimum booking time.
PHOTOGRAPHY STUDIO RENTAL